Citizen Science Helping Bees
A Health Monitor For Honey Bees
Built To Order, Made in the USA
Time to pay attention to Bee Health
1/3 of our food depends on Bees
More than honey! Without bees we don't have watermelons, cashews, cucumbers, apples, mangoes, avocados, almonds, apricots, cherries, pears, peaches, nectarines, raspberries, blackberries and blueberries to name a few. Not to mention beef or dairy. Guess what pollinates the alfalfa and clover grass the cows eat?
Colony Loss is Unsustainable
Since 2006 beekeepers have reported colony losses exceeding 30%, which is unsustainable. To make up for losses, beekeepers divide colonies (called splitting), to force the bees to make 2 weak colonies from 1 strong one. But more weak colonies leads to higher loss rates, so there's no stable bee population in sight.
Eyesonhives Helps Beekeepers Help Bees
We're so passionate about this issue we built a technology from scratch to better understand what was happening at bee hives, alert beekeepers to changes, and help them understand their bees with software that measures hive activity, and gives video playback and alerts through a web app.
Helps Beekeepers and doesn't interfere with the Bees


CREATED BY AND FOR BEEKEEPERS
When Paul, a beekeeper of 40+ years asked us to count bees coming out of a hive because he couldn't check on it frequently enough himself – now that bees are so vulnerable to colony collapse – we were inspired to help.
Go to FUNDED LOCALLY & ON KICKSTARTER
FUNDED LOCALLY & ON KICKSTARTER
We deployed 15 systems in 2015 in the Eyesonhives local beta, and thanks to supporters like you backing our crowdfunding campaign, we launched another 30 systems to monitor beehives across the US in early 2016!
CROWD SOURCED DATA TO HELP BEEKEEPRS
Every beehive contributes data to the Eyesonhives analytics platform and improves the system for all beekeepers. You can support the effort directly as a beekeeper, or backer!
STAY IN THE LOOP ON BEEKEEPING TECHNOLOGY!
We promise we won't spam you.  We'll send just the sweet stuff!
VIDEO AND DATA FROM THE BEEHIVE
Eyesonhives uses a camera and computer to visually monitor what goes on at the bee hive all day, every day. Activity is measured by tracking the number of flying bees.
ADVANCED TECH THAT'S EASY TO USE
Colony activity patterns are tracked over time using computerized video analysis. Hours of video is automatically translated into an easy to understand, visual, real-time summary for beekeepers.
MEASURES THE HIVE AS A WHOLE
A key insight is that it's not just the 'count' of individual bees that matters, it's their flight behavior. Eyesonhives doesn't just look at bees, it measures flight behavior of the hive as a superorganism!
YOUR BEES ON YOUR iPHONE, REALLY!
The Eyesonhives Analytics web app, is PC / Mac / iOS / Android / Linux compatible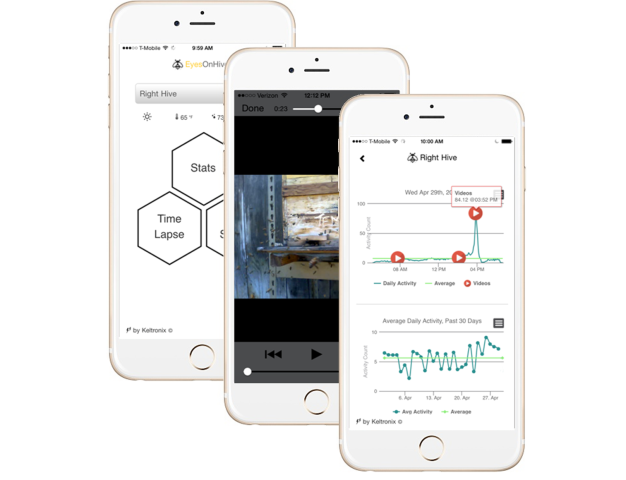 FINALLY, DATA SCIENCE TO HELP THE BEES
One of the most exciting things we found was what we call the "orientation spike" in data.


In a healthy hive we see an activity spike mid-afternoon as new field bees take their first 'orientation' flights.
Sick hives, or hives that are under attack, show different activity signatures.


Graphing the average daily bee activity over time shows how a hive is growing.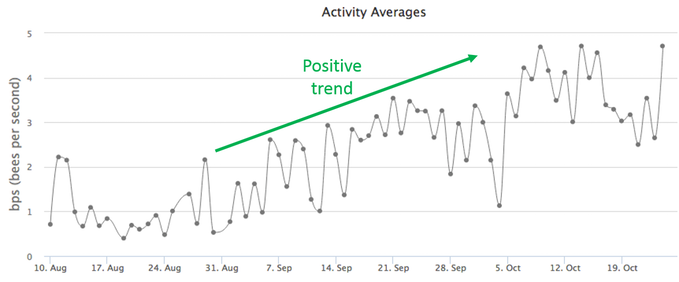 It turns out the flight activity is an indication of hive health as it grows and gives an early warning if something is wrong.


It feels pretty great to save an entire colony of creatures. No more finding they've all died because they didn't get help.
KEEPING AN EYE ON BEE HIVES
Video, timelapse and beehive activity data is available through the web app, which is PC / Mac / iOS / Android / Linux compatible. Beekeepers can see videos of interest, if anything unusual occurred at their hives, and quickly notice trends.
WATCH WHAT THE BEES ARE DOING
Skilled beekeepers notices hives that need assistance. But too often problems are not seen until it is too late and the colony is lost. We asked 'what if all beekeepers could continuously monitor their hive?" Now they can!
SHARING BEES AND KNOWLEDGE
Eyesonhives makes it easy to share with others to promote awareness and knowledge of bee health and activity patterns. Turns out some pretty surprising things happen in front of a beehive too.
VIDEO AT THE HIVE ENTRANCE
Storch's At The Hive Entrance catalogs "How to know what happens inside the hive by observation on the outside". We were inspired. Eyesonhives allows beekeepers to use this same visual intuition remotely.
Be part of the Buzz
BEES MAKE LIFE MORE AWESOME
We're beekeepers ourselves and believe that sustainable solutions embrace the principles of permaculture rather than pesticides. Eyesonhives gives beekeepers better data to make smart decisions, and help keep our pollinators around.
WE AND THE BEES NEED YOU
With your help we can start collecting data from many regions across the US and eventually the world. The ability to use video analytics to issue alerts and predict hive outcomes is in its infancy. More data is needed to help correlate specific hive diseases, pests, and bee behavior to the hive activity measurements.
JOIN IF YOU'RE A BEEKEEPER
If you are a beekeeper, Eyesonhives gives you greater access and connection to your bees, while saving you time. Become a member of our community of citizen scientists and watch videos of bees, see trending data from other hives, make comments, and help identify anomalies to improve the EyesOnHives alerts.
NOT YET A BEEKEEPER? YOU CAN HELP
Join the community by becoming a Social Bee supporter. Alternatively, sponsor a beekeeper by purchasing a system that we place through a recognized beekeeping association.
A PROJECT WITH IMPACT
#SBSW MOST IMPACTFUL WINNER
#SBSW (Santa Barbara Startup Weekend) named our team Most Impactful with Eyesonhives for honeybee colony health monitoring in agriculture. It's a great vote of confidence, and recognition of the importance of building tools to help us help the bees. Our mission is to accelerate the transition to sustainable agriculture.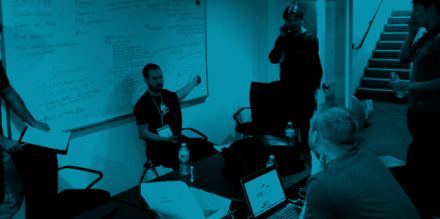 THE EYESONHIVES TEAM
We're dedicated to helping the bees, and inspired by the beekeeping community's support!
KELTON TEMBY
A third generation beekeeper, Kelton left rural Australia to become a medical robotics engineer to help doctors treat patients remotely. When not developing a new algorithm, prototyping a robot, or sharing the buzz about EyesOnHives, he's found tending his backyard organic garden and four bee hives or volunteering for his local beekeeping association.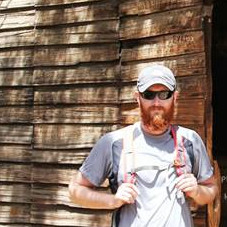 JONATHAN SIMPSON
Jon has worked on low-level, embedded RF systems through to full-stack web development. He is passionate about open source software, believes in TDD, finds it humorous to assess himself in the 3rd person, and still retains a love for hardware. When he is not hacking on work or for play hes reading, training for a marathon, or on a hike with his wife and their dogs.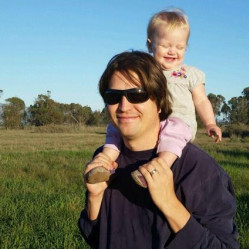 NICK CUNNINGHAM
Driven by a passion to improve efficiency and reduce waste, Nick has a PhD in Mechanical Engineering with expertise in mechanical systems, materials characterization, experiment design and data analysis. He's often found tuning his 3D printers and teaching his daughter about bees.
SCOTT ROSS
A Software Engineer with 10 years of industry experience architecting SaaS solutions and web services, Scott drives innovation in a direction that keeps us focused on the people we're trying to help, and our purpose for working so hard in the first place.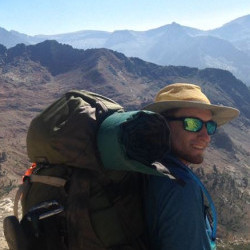 Nate Kirchhofer
Physicist and PhD candidate in Materials Science (UCSB) with expert knowledge in bioelectronics and bioelectrochemical energy conversion. A member of the Western Apicultural Society excited about positive impact, you might be surprised by just how good he is at Ultimate Frisbee, and how deeply he cares about the craft of homebrewing beer.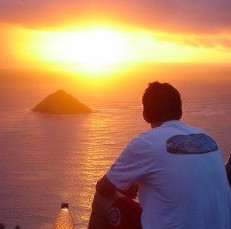 Eric Brigham
Business Developer and Finance MBA with 10 years of start-up experience across a variety of business models, including SaaS/PaaS. Eric lives and breathes strategy, and thinks about how we can align our values with our company actions and purpose in a scalable way. When not working or reading, you might find him playing volleyball or hiking.
CHECK OUT THE BUZZ
Beekeepers Have Good Things to Say About EYESONHIVES
Be part of the latest in beekeeping technology