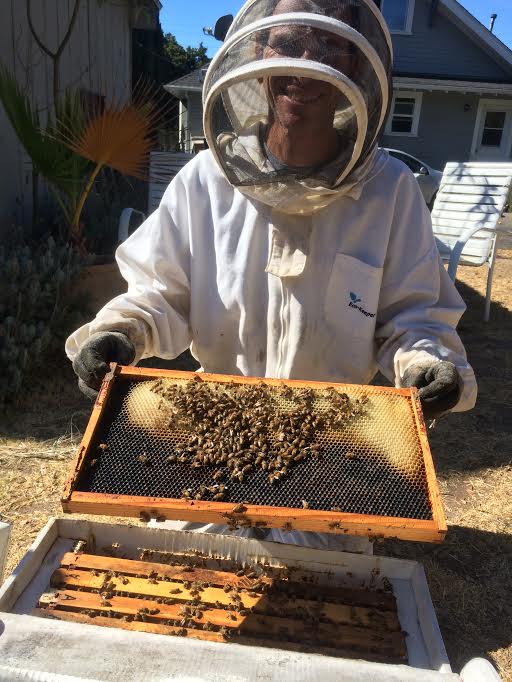 "As we carefully pried open the hive together, we forgot all about mentoring, market strategy and startups. I could see David sharing in what I call the 'Bee Zen' experience. In that moment, he felt the same connection with the bees that I did. As we peered into the hive, I found the queen I had rescued recently, with the first few eggs of a new generation, and I knew that the little colony was off to a good start."
Author: Kathryn Arthur.  Originally published https://impacthubsb.com/beyond-the-hub-when-mentoring-becomes-a-friendship/
Kelton Temby, creator of the EyesOnHives Honey Bee Health Monitor, left rural Australia to become a medical robotics engineer. His career has been helping doctors treat patients remotely. However his passion and talent for remote data collection and observation recently led him down a different path.
When he discovered a bee hive in his garage in Santa Barbara, he found himself drawn toward urban beekeeping, a natural fit since he'd grown up on a farm and would be a third generation beekeeper. From there, it was just a matter of time before he reconnected with the family interest and founded Keltronix, a company dedicated to accelerating the transition to sustainable agriculture.
With a new product in the works with EyesOnHives, Kelton reached out to Impact Hub mentor David Kramer to get market strategy advice. An active angel investor with a long history of business and startup success, David felt like the perfect fit.
In a half hour session at Impact Hub, David quickly zeroed in on strategic questions and key points about the market for backyard beekeepers, and explored the five-year plan for EyesOnHives. This work led Kelton to realize that focusing on commercial beekeepers would be his best route to achieve the company's mission.  The time to start was now.
After their mentoring session Kelton felt both inspired and excited to move forward with his project, and was thankful that David had taken time to help move the Keltronix vision forward.
On an impulse, Kelton ventured an invitation. "I asked if he was interested in getting in the bee suit for an introduction to the bees in my apiary. To my surprise, he said yes!"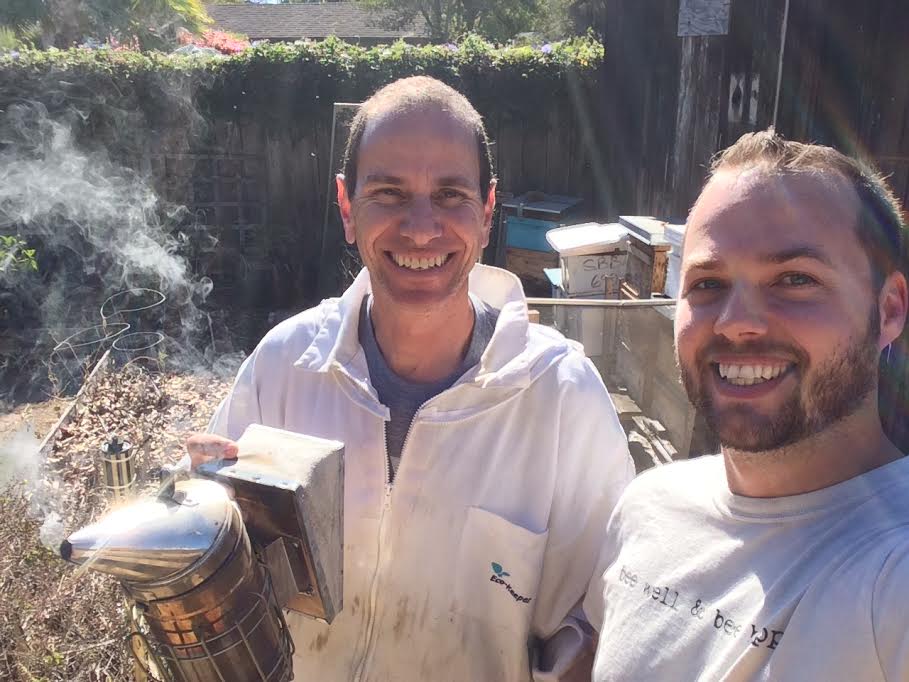 As it turned out, David had been curious about bees since his childhood in South Africa, where he had a friend who was into beekeeping. As an adult, he was eager to finally learn more and get involved.
At the apiary, Kelton was pleasantly surprised by the way David acclimated to the beekeeping experience, describing David's reaction to the bees as "priceless."
The day raced by as they inspected a 'nucleus' hive to check on the queen, brood, pollen, and honey stores.  They documented the data in the EyesOnHives app, and explored the results of the assessment.
Their day wrapped up  finished with a tasting of hand-harvested honey, where Kelton and David leisurely conversed about the future of beekeeping and EyesOnHives.
Reflecting on the day, Kelton shared how grateful he was for the unique experience. More than just a one-time business mentor, David was now a supporter of both Kelton's company and the larger beekeeping community.
And this, Kelton noted, is the true power of the Hub: building new relationships to create real-world impact.